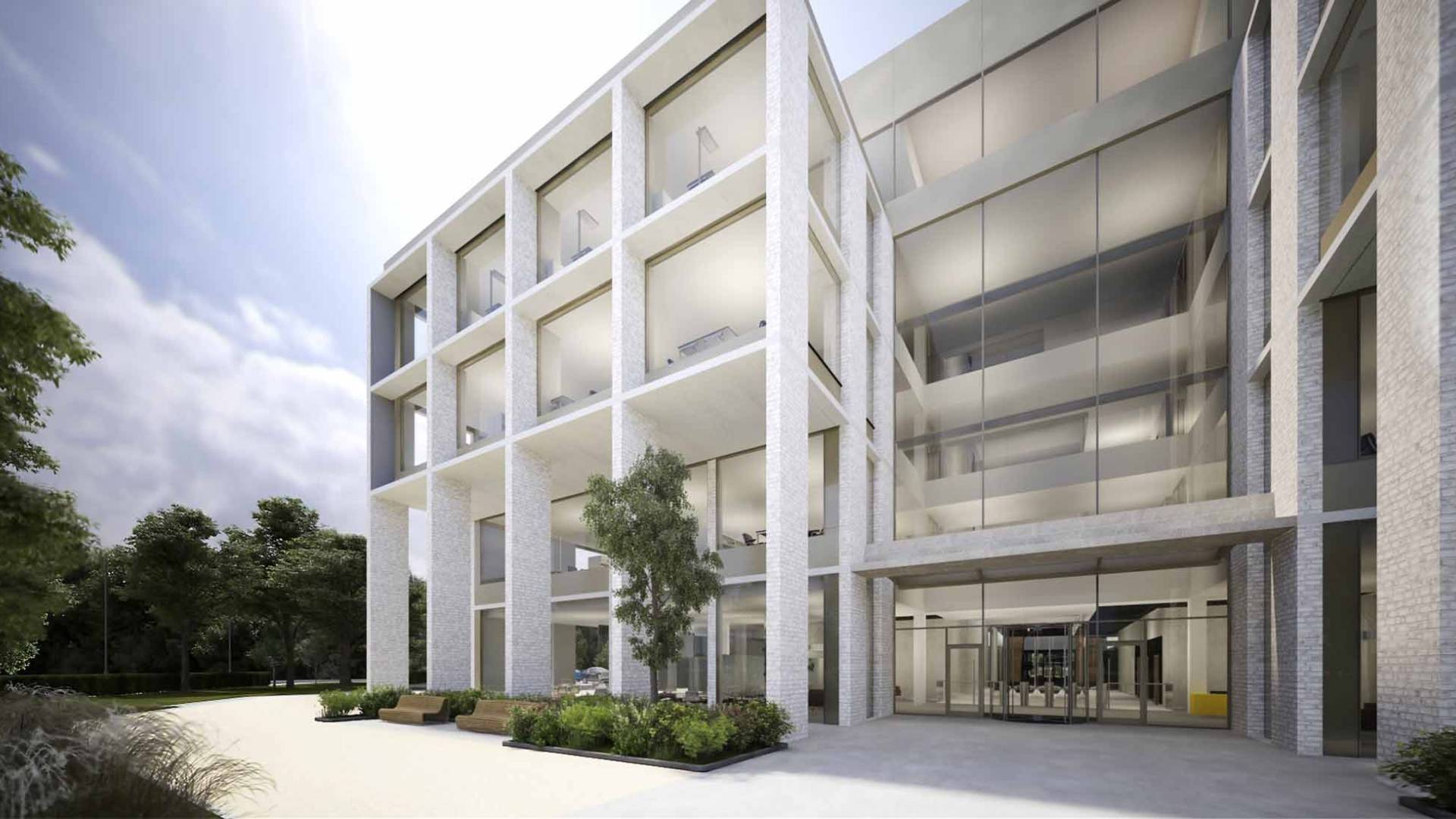 "My first impression was just how much room we're going to have!"
Laura, our Head of Branding and Packaging, went to see our new headquarters with a group of other senior team members at the beginning of April. Laura has shared her impressions following her visit, as well as what she thinks it will be like to work there…
When the meeting invite landed in my inbox, I instantly accepted. The location: Lidl House. I've been eagerly following progress on our brand-new Head Office building and didn't think I'd get a chance to visit the site myself until the building was completed.
I decided to take the train and as I pulled into Tolworth station, I got my first glimpse of our new building. The first thing that struck me was how close to the station it really is. It can't have been more than a few minutes before I was stood in front of what will be the main pedestrian entrance. Even stood looking at the building from that side, you get a sense of how big it is.
The main purpose of our visit was to discuss elements of the interior, so after some presentation slides in the site office, it was time to venture inside the building. It was fantastic to see the space and imagine how it's going to come together over the next few weeks and months.
It might sound cliché, but no matter how many people told me how spacious the new building feels, standing in front of it my first impression was just how much room we're going to have! Having seen our team outgrow not one, not two but three office spaces within Wimbledon, I'm really excited to know that we'll finally all be together under one roof. Worry not, it'll be a good few years before we outgrow this space!
Speaking of roofs, the glazed roof lets so much light into the Atrium – quite literally the heart of the building. Standing there with a handful of colleagues, imagining what it will be like when it's finished was really inspiring. We talked there about meeting spaces – there'll be so many different ways to meet and interact with colleagues in the new Head Office. From private meeting rooms and collaborative break-out spaces, to grabbing a coffee in our state-of-the-art canteen, or catching up on the roof terrace.
Not only do we have a roof terrace, but there's a seating area outside the canteen for those sunnier days and if you just fancy a breath of fresh air. Our new Head Office is surrounded by vast, protected green space that we have direct access to, perfect for a lunchtime walk/run. On top of that we have all the local amenities that Tolworth has to offer, all within 15 minutes on foot.
I haven't even mentioned the gym – the space was much bigger and brighter than I was expecting, and I was excited to hear about the two studios. I'll have no excuses!
But gyms, canteens and standing desks aside, I was blown away by how much work has gone into this building. So many departments have been working tirelessly and considering every single detail, every light fixture and door handle. If you ask me what I'm most excited about, it's seeing the building buzzing with activity and being able to work more flexibly and collaboratively, in a space that's been designed with that purpose in mind. I truly believe it'll bring us closer, not just as Head Office colleagues, but also to our regional colleagues, reminding us of our role in supporting them and providing award-winning products and service to our customers up and down the country.
Another massive milestone in our Lidl journey – full steam ahead!