This isn't paperwork and process. This is creating a place where people want to work.
About us
Our HR department has a wide-reaching remit. We're responsible for helping with recruitment and onboarding, and supporting employees through the complete employee lifecycle, but we also take charge of wellbeing, deliver all kinds of training and have to understand processes, rules and regulations. There's not 'one kind of day' in HR and every action the team takes plays a big part in our success. We know that one size never fits all and constantly adapt and evolve to support colleagues all over the business, with a wide range of needs that would rival even our product range.
1,400 CV's
Screened by a recruiter each month
13
No. of Regional HR teams we support
1,000
monthly holiday requests
What we're looking for
We have to be analytical, constantly reviewing our processes and looking for ways to help colleagues. This takes creativity and teamwork, developing original ideas to make Lidl a great place to work, then ensuring that they're implemented right across the business.
Attention to detail is critical, whether it's reviewing CVs or employment legislation, we need to be certain that the decisions we make enable the business to grow sustainably, and our people to reach their potential here.
To succeed in this team, you'll need strong people skills to collaborate with a wide number of colleagues each day. You'll also need to be a brilliant problem solver, as you'll advise on a variety of strategic business decisions.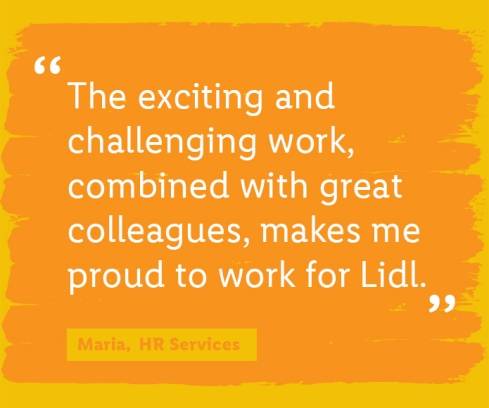 "Working at Lidl you get a lot of responsibility quickly. There are always people there to help or ask questions to but its rewarding to know that you are trusted to lead important projects.

Lidl puts a strong focus on development and I am proud to work for an organisation that values this."
Why join us?
As we grow, opening an average of one store per week, HR has a huge part to play in our future. You'll be at the centre of our expansion, supporting 13 different regions with recruitment, project rolls outs, initiatives and continuous development. You'll put the right people into the right roles, in our Head Office and our stores, so we can continue to do what we do best – be the Lidl our customers love.
Succeeding in HR means helping bring the right people to Lidl; helping to develop colleagues, both near and far, by giving them the right tools and opportunities; and thinking up new ways to help our business grow. Whether you're involved in creating a wellbeing programme like our 'Feel Good Five', or processing changes to contractual terms, or even helping senior leaders to refine their soft skills, you'll be challenged, trusted and supported on every project. You'll be part of a team who work together to make Lidl a place people want to work – and where you'll want to work too.