This isn't wheeling and dealing. This is bringing variety to our customers.
About our team
Our Buying department is responsible for ensuring our customers get the products they want, at the best quality and for an unbeatable price. You'll make a real impact on stores, studying customer behaviour and negotiating on products to ensure they meet their needs, optimising the buying process, then ensuring those products hit the shelves on time.
Our Buying team in numbers
2,000+
in-store products we buy and manage
60+
colleagues in our team
What we're looking for
You'll need strong problem-solving skills to anticipate and overcome the variety of challenges that come with the fast-paced environment. Innovation is key. As we grow and attract more customers, we need to meet their needs on range, quality, price, and sustainability. That all starts with our buying department.
You'll need to be willing to keep learning on the job, we'll give you the training and support to develop, but you'll need to put in the effort and show your commitment to developing yourself, that way,'you'll keep progressing throughout your time at Lidl. We rely on effective communication across our team, everybody can bring a variety of experience and expertise to the table, it's up to you to learn from that, and to contribute with your own insight and advice.
Our buyers bring the most exciting products to our shelves and help us deliver great value to customers.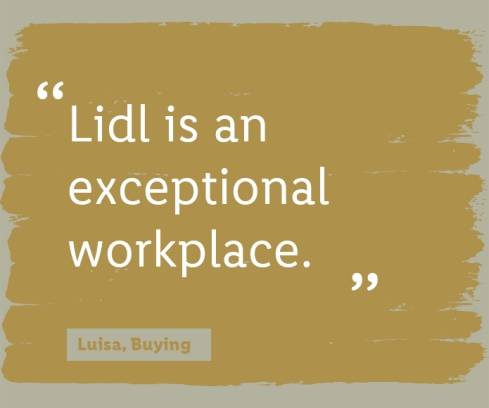 "Lidl is an exceptional workplace. From the flexibility to the non stop charity events and ongoing collaboration with the NSPCC.
I love the fact that it is the biggest Brick&Mortar retailer in the country and I can't wait for a shop to open near me. I already know how amazing the quality of the produce we are buying is, but everytime I shop in one of our stores I'm even more impressed."
Why join us?
It's your chance to see the difference that your work makes, not just by getting new products into customers' hands for the best price, but reducing plastic and creating a more environmentally friendly supply chain.
You'll discover how much variety there is to Buying, it's not all negotiating the best prices. You'll need to understand our customers inside and out, learning their habits and preferences and researching and developing the ideal solution to meet their needs. We encourage our suppliers to keep innovating, you'll be the driving force behind more sustainable food production and packaging, discovering the best ideas since sliced bread.